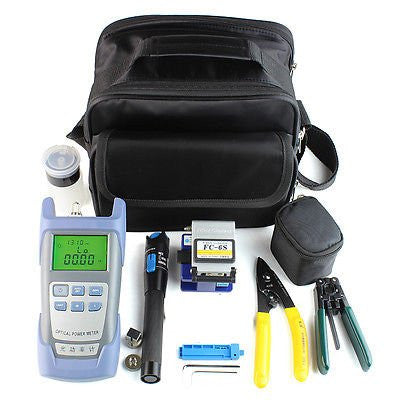 FiberShack - Fiber Termination Kit - 9 in 1 Fiber Optic Termination Kit - Professional Grade FTTH Fiber Termination tool kit - with English instructions
---
FIBER OPTIC TOOLS INCLUDED - Fiber Optic Stripper suitable for 3mm, 2mm Indoor Fiber Optic jumper Cables - High-quality FC6S Fiber Cleaver for FTTH Cold Welding of Single Mode Cables. Useful for Core Cutting & repair of Fiber Sizes 125um and a Skin Diameter 250~900um
ADDITIONAL ACCESSORIES : Also includes Fiber Tools like our Optical Power Meter which works with FC, ST, SCAPC, 1mW Visual Fault Locator tester (w/o batteries), FC-6S Fiber Optic Cleaver, CLAUSS Fiber Optic Stripper, Fiber Optic Splicing Tool, Black Carry Bag, Clean Paper, Alcohol Bottle, Fixed Length Rail
RELIABLY TESTED: Every product in this fiber optic termination kit is tested after production, and is Rohs compliant. We rely on these products for use in our clients fiber networks across the USA.
DETAILED ENGLISH INSTRUCTIONS: For All Tools and Parts Included. Item contains no liquids or chemicals. Cleaning fluid bottle ships empty
TRUSTED SUPPLIER : Since 1989, Pacific Satellite Inc has been installing commercial CATV systems and networks throughout the USA. We always found it difficult to source raw materials for jobs at short notice, and at a good price. So we started to source our own fiber products for HDTV, SDI, and Analog MATV systems. This need has created our brand, Fibershack, your mission critical supplier for all Optical Fiber needs.
---
Share this Product
---
More from this collection