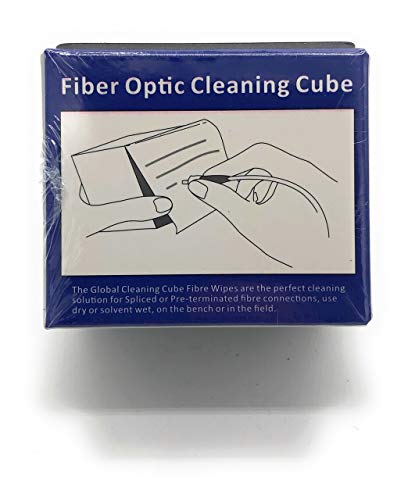 FiberShack - Fiber Optic Cleaning Cube - Professional Anti Static Fiber Optic Wipes for cleaning Fiber cable end faces. Dust & Lint Free surface Fiber Wipes
---
500 END FACE CLEANS - This Fiber Cleaning Cube is a perfect addition to every Network Fiber Cleaning Kit. With 125 Individual perforated wipes per Cube and 4 end faces cleaned per wipe.
REDUCE COSTS, INCREASE EFFICIENCY - Fiber optic termination kits and cleaning kits can be costly, FiberShacks goal is to offer lower cost - yet high quality alternatives to traditionally high priced competitors
QUALITY RATED - All of our Fiber products meet UL, cUL, IEC & RoHS standards. Our SM SX fiber patch cables are OS1 9/125 - ideal for all Single-mode fiber networks including CATV type FTTH, FTTB & FTTP systems.
RELIABLY TESTED: Every Fiber Optic Cleaner we stock is used to clean mission critical fiber networks across the USA, customers include - Nascar, MotoGp, NASA and more. This kit is an essential part of every fiber professionals tool bag.
TRUSTED SUPPLIER: Since 1989, Pacific Satellite Inc has been installing commercial CATV systems and networks throughout the USA. Under the brand name Fibershack we independently source a cost effective, high quality suite of fiber optic products for HDTV, SDI, and Analog MATV systems.
---
Share this Product
---
More from this collection